Why Is Social Media Important for Small Businesses?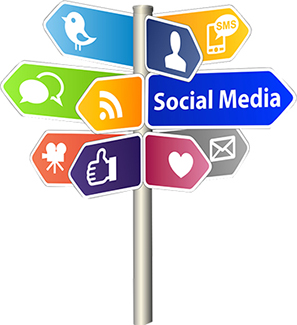 Your customers are already using it


Your Competition Is Already Involved


It helps you connect and form a relationship with your customers


It gives you increased brand recognition and builds brand loyalty


It gives you better Search Engine rankings (improves SEO)
Why hire a social media manager?
The only thing worse than no social media presence is an outdated social media presence. You may have the best intentions when you create your social media accounts, but you'll soon find that it's easy to put off updates until days have passed. Not to mention, comments and customer posts that aren't acknowledged for days, if at all. If you are honest with yourself and you know you won't maintain it long-term, a social media manager may be the best option.
Why Gruene Acres Web Design LLC?
Gruene Acres Web Design LLC specializes in developing, implementing and administering a social media strategy for smaller companies.
What we are supplying is experience and time. Very few small business owners have the time or expertise to set up their social media and internet marketing, use it effectively and consistently much less monitor it to address concerns or comments quickly and appropriately.
What we offer:
Social Media development including consistent posting to generate engagement with customers; monitoring and responding to that engagement.
Maximizing your SEO by consistent use of keywords and by ensuring the top search engine listings are current.
Relevant review site monitoring and response.
Blog posting
Email marketing; designing and sending blasts, monitoring response.
We want to get to know you, learn about your business and help you take advantage of all that online marketing has to offer.
Our Pricing
Our prices are competitive within the industry and we seek to provide you or your company with the best service possible.
Our Customers Say
CUSTOMER 1
ABC Fire Systems
Caryn it looks absolutely amazing! You did a great job. People are already asking who did it.
from: Lee Lane, Owner
CUSTOMER 2
David's Mobile RV Service
Oh my gosh we LOVE IT!!!!!!!!!!!! Put it everywhere!! This week-end I will send another job and you can add that to the site and do more videos. Your the best...go for it...thanks a million...your the best!!.
from: The Campbell's
CUSTOMER 3
Del Mar Watches
I have been doing business with Gruene Acres Web Design for over four years. I have been 100% pleased with them handling the work on www.delmarwatches.com. Our business and exposure has increased tremendously. I recommend them to all my business and personal associates. Give them a call, I know you will be satisfied.

Thanks for your help,
from: Jim Nixon, President
CUSTOMER 4
Cowboy Sports News & Broken Arrow Silver Co
We have been with Gruene Acres Web Design for over 6 years and have been very pleased with the quality of service and personal attention to detail they have given us for our two websites. They have never failed to achieve any request we may have had, regardless of the extreme.
from: Alan Jeffrey, Owner
CUSTOMER 5
Rich Enterprises, Inc.
In the past, I have completed my own website design; however, Caryn was highly recommended over a year ago and I have never doubted my decision to work with Caryn. She has the heart of a teacher, the creativity / eye of an artist, and skills of a true professional. In addition, she has been highly responsive to my needs. Her designs have been thorough and impressive. I would whole-heartedly recommend Caryn and Gruene Acres Web Design for your next website project.
from: Melissa Landis
CUSTOMER 6
Diane Kraft Art
I've been extremely pleased with the work Caryn and Barbara have done developing my art website. They are both so very courteous and professional and when I request changes they respond immediately to let me know it will be done as soon as possible, and just the way I want it. I've also appreciated their honesty, integrity and willingness to work with me making my website all I envisioned it to be.
from: Diane Kraft
CUSTOMER 7
Texas International Oilfield Tools, LTD.
The purpose of this letter is to formally and publicly commend Caryn Maus for the excellent service she provided to Texas International Oilfield Tools Ltd. throughout the ramp-up and launch of our new oil tool catalog and our online website. In my opinion, the level of service that Ms. Maus extended to our company was far beyond our expectations.
I have never before written a letter like this on an entirely unsolicited basis. However,in this case I was so impressed by the support and service provided by Ms. Maus and her small team of marketing and communications specialists that I felt compelled to go on record with my praise. These people truly deserve it. In an era where exceptional one-to-one customer service excellence has virtually disappeared from our industry, the work that Ms. Maus and her team did should be held up as an example for others to try to emulate.
CUSTOMER 8
Physicians WEIGHT LOSS Katy
They do incredible work and design. So glad to have them for all our marketing at Physicians Weight Loss Centers of Katy..
from: Beverly Ashaka, Director - posted on Facebook - 5 Stars
CUSTOMER 9
Purple Sage Spa
They are AMazing!!! Going with Gruene Acres was absolutely the best decision I made for our company website!! They understood exactly what I wanted and expected. Love them!!
from: Carrie Maynard Ashley, Owner - posted on Facebook - 5 Stars
- posted on Facebook - 5 Stars
Top